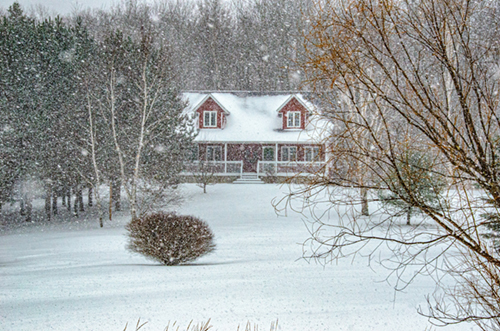 Winter is a magical time. Many Michiganders prepare for the special holidays and winter months by adorning their homes with festive lights and Frasier Fir wreaths on front doors. Standing back and admiring the joyful beauty of a well decorated home, owners may feel a sense of comfort and safety. The home is merry, warm, and welcoming. However, in addition to winter's wonderment comes other concerns that are not so enjoyable: foundation and basement problems.
With the cold can come gaps, cracks, heaving foundations, and a host of other issues. As any Michigan resident knows, once winter hits the state, the thermostat begins to drop considerably. Frigid temperatures set in. While the house is warm on the inside, the outside is frosty and frozen. Soon, the ice-cold weather begins to affect the concrete foundations of many homes. Temperatures will lower, then rise, then drop again: a freeze thaw cycle. This occurrence plays havoc with pre-existing cracks and gaps in the foundation. These crevices will begin expanding and then possibly widening as winter progresses. If the temperature is less than forty degrees for several days in a row, the chance of damage to the foundation increases. Some foundations are completely covered by soil or ground cover and may not experience the impact of the severe cold. However, those foundations exposed to the air may suffer cracking and expansion of existing gaps.
Furthermore, oftentimes ice will freeze under the surface. This can lead to frost heave. As the amount of ice under the soil surface grows, the soil swells upward. This trapped ice can become a mass in the shape of a lens. An ice lens is quite powerful and can crack a home's foundation. Ultimately, the ground will heave. This heaving can enlarge existing cracks and create new ones to form.
Another concern during winter months is erosion. Melting snow and sleet can erode yards. Some yards do not slope properly away from foundations. Thus, water pools around the concrete. Also, foundations can be damaged by water from eavestroughs. If the gutters have been installed incorrectly, have portions missing, or have become misshapen over time, they will not catch all of the water. And gutters that have not been cleaned may become jammed, which can result in a cascade of water that pools around foundations. Additionally, downspouts that are shorter than five feet may dump water too close to foundations. All of these issues can lead to soil erosion.
Eroding soil will allow water to damage a home's foundation as it pushes into the concrete. This is known as hydrostatic pressure: The water becomes so heavy that pressure builds until it drives the water into the concrete, which is porous, so it absorbs the water. As the foundation takes on moisture, structural damage may occur. This situation can possibly shift a wall or create more serious damage to the wall. If a homeowner notices not only bowing but cracks that are horizontal, diagonal, or in a stairstep pattern, it could be the result of hydrostatic pressure.
Ultimately, water also will find its way into other areas of the basement, causing several types of damage. Carpet can be ruined, drywall can be harmed, and wood can experience mold and rot. Mold is a terribly concerning issue for a home because it can lead to severe damage to the basement and crawlspace as well as the home's contents. Worse, mold can even lead to health problems. Moisture in a home is a serious issue.
Another serious issue is a sinking foundation. This occurs due to soil problems, which are often the result of what the foundation was initially built upon. Also, Michigan's freeze thaw cycle can cause shifting soil, which makes it contract and expand. This can put severe pressure on foundations, causing them to sink. A sinking foundation can lead to floors being unbalanced or slightly tilted. They will no longer be flat. Older homes often experience sinking foundation problems as they were not built according to modern codes. Prior to today's code enforcement, older homes might have been built on problematic soil.
All of these issues should be addressed immediately.
Fortunately, there is Rock Foundations of Fenton, Michigan. Rock Foundations is an expert in foundation issues and repairs. The company has served Fenton and its surrounding communities for years, providing quick, dependable, and expert service to hundreds of homeowners. They consistently receive the highest marks for their skilled and professional service.
Homeowners can do much to prevent these foundations issues like making sure gutters are fixed and cleared; downspouts are longer than five feet and directing water away from foundations; bushes are trimmed; snow buildup is cleared near foundations; better sloping is created; and homes are inspected regularly for cracks, gaps, heaving, and problematic floors and walls.
However, sometimes the damage is already done. That's when homeowners need the expert help of Rock Foundations. A home is typically people's biggest and most important asset. It also is a refuge for the family – a place where people are safe and secure, especially during winter's harsh months. Yet, when cracks and gaps allow water to enter homes, the damage can be widespread, grow over time, damage the home immensely, and even harm families' health. Basement and foundation damage should be addressed immediately!
When homeowners contact Rock Foundations, their problems will be resolved by trained and experienced staff. They will visit the home promptly and expertly evaluate the situation. They will assess the specific foundation cracks and other issues like shifting chimneys, leaning walls, moisture, mold, and slight grades to floors. These professionals will then offer homeowners advice on the best course of action. Their plan will resolve the problems effectively and efficiently. It may involve Rock Foundations' epoxy injection system that penetrates cracks. This injection process slowly fills crevices and cracks with a strong, durable substance. The damage to the home may be structural. A structurally comprised home risks serious problems. Therefore, the situation will require a strong material; epoxy is the superior choice. By filling in the cracks and crevices, homeowners can be assured that their foundations are protected against further water invasion and increased cracking. This method ensures that all cracks will remain filled for years to come. The workmanship of Rock Foundations is quick, masterful, and professional. Rock Foundations is the area expert in evaluating and repairing foundations and basements.
So, if homeowners are concerned that one of their prized possessions – their homes – is experiencing any of these issues, they must not delay. They should call Rock Foundations – the leader in all foundation issues. Winter should be a time of family fun and a safe, cozy home. Therefore, people should put their homes in order and their minds at ease: Contact the Rock Foundation experts today.